Milton Terrence Kelly
UNTIL MY FATHER died just after my eighth birthday, and for a few years after that, we lived in an area of Toronto known as the Junction.
I was born on November 30, 1947, and trains were a factor in my childhood, even if I could not see, nor do I remember hearing them, from the one-bedroom apartment over a cigar store that I shared with my mother and father: 3103 Dundas Street West.
One of the memories I have of my father is his taking me to the Lambton roundhouse and putting me up in the cab of a steam locomotive. In a hallucinatory way I even remember being in one moving: fire, and the light of a very bright day, the men shifting about, a platform swaying. To this day trains reassure me in a profound way: I explain it now by describing trains as great benign beasts, monsters who will not hurt you: all this associated with a father. My father was Irish, and this early part reflects James Joyce's phrase, "carry me along toddy, like you done through the toy fair".
This is the beginning of a memoir published in my book Downriver. The book consists of poems, new and collected, this memoir of the Junction and Parkdale in Toronto, concluding with a story which is about the kind of people and the kind of place I grew up in.
The first part of the memoir ends with me settling down at Parkdale Collegiate, after having attended the Catholic School De La Salle, which I knew I had to get out of. De La Salle was run by the strap-wielding Christian brothers responsible for, among other things, the sexual abuses at Mt. Cashel orphanage in Newfoundland. All That Wild Wounding is the story that ends Downriver, and it tries to recreate all of the feelings of what went on at that fraught and wonderful school.
The autobiography continues: Parkdale gave me the chance to participate in track and field, and running gave me those two great aids; structure and order, something to do, not "just go and sit in the restaurant after school and eat chips and gravy and a coke." Running is something I like to do to this day. I was athlete of the year at Parkdale in 1967.
My imagining Canada may have lapsed at Parkdale, although in my earlier years where I did play "wolf lope," chasing down other kids on the Gardiner Expressway construction site as it was being built. The old, helpful pattern returned, and I knew it was time to leave the neighbourhood after seven years of high school. I did not want to live at home, "go to U of T then come home and hang out at the restaurant," but perhaps I didn't want to leave completely, so went to live in residence in Toronto, at Glendon College Campus of York University, "a small, liberal arts college," with an emphasis on Canada and current affairs. I was very conscious that a smaller school would be best for me. And after my first year of university I got my first real job, with the help of a parkdale history teacher: working up north for the Canex Aerial Exploration. Again, I have written about this. My work, of course, is imagined, but of course, writers use their lives. And, again, it is complicated, but that first trip to the north is more than touched on in my book The Ruined Season
I can remember vividly, before going away on that first trip, lying on the floor of Scobie's apartment in the dark listening to songs of the north, songs such as "Mush on You Malamutes" and "The Spell of the Yukon." Sentimental, gravelly voiced country and western music in the dusky apartment evoking a spruce skyline against twilight. I was happy.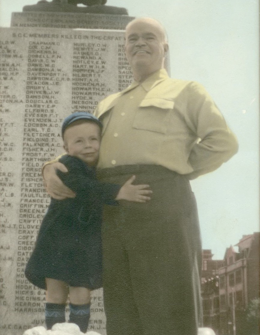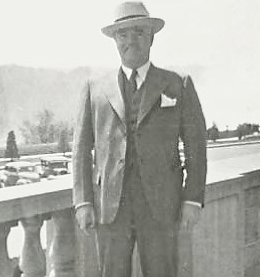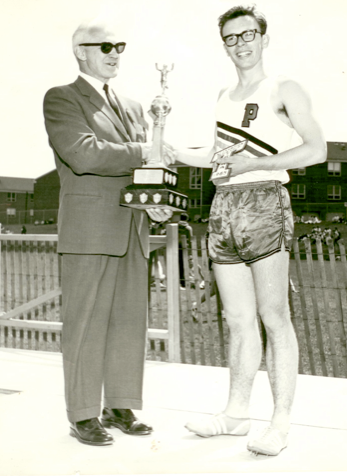 Top: M.T. Kelly and his father. Middle: Milton Thomas Kelly - in a suit; Below: A happy day; winning first place at a track meet.